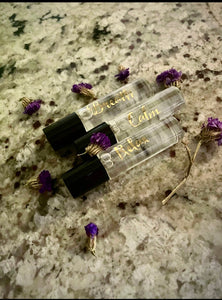 Here we have our Relaxation Roll On Oils! These Roll Ons are infused with stress relieving Essential oils. The aroma it will leave on your body is sure to make you feel calm and relaxed!
 Immunity 
* Apply this to the bottom of feet to support your immune system when sickness is going around. 
 Ingredients: Orange, Eucalyptus, Clove, Cinnamon, FCO
Sleepy 
* For a restful night. Create a calming environment before bedtime.  Apply to the back of neck, pulse points, bottom of feet and back. Massage in for additional relaxation.
* Ingredients: Sandalwood, Lavender, Ylang Ylang, FCO
Bug Away
* Keep those bugs away. Apply to the back of neck, pulse points and ankles.
* Ingredients: Citronella, Cedarwood Atlas, Lavender, Lemongrass, FCO
DISCLAIMER: Products contain essential oils, if you are allergic to these types of items please don't use the products. Not liable or responsible for illness or allergic reaction. Please read instruction and always do a skin test.