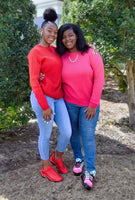 The FACES Behind the Brand
Greetings, Our names are Aaliyah and Alexandria.
We are 18 and 16 year old entrepreneurs.
We started this business in the midst of a Pandemic,
July 21, 2020
Considering the circumstances we are so thankful for the support and encouragement we've received from everyone! HAPPY SHOPPING <3
Customer Reviews
Rice Water feels so refreshing on my scalp! It moisturized it very well, and made my hair smell super good.

Marianna W.
I absolutely LOVE the pink lemonade body scrub. It leaves my skin feeling so soft and moisturized. I will definitely be getting this again!



Brittany O.
I recommend this product for anyone on a hair growth journey. I cut my hair last summer and have been looking for ways to get it to grow quickly. I recently tried this hair growth oil and I saw results overnight. If hair growth is what you're looking for this is the product for you.



Aiyanna S.
This oil is absolutely amazing! While using it I've noticed my beard has surely grown and thickened. It's also added a shine and smoothness to it. The oil really decreased irritation. I HIGHLY recommend this!



Braxton S.
I absolutely love this body butter. Makes my skin so soft!!!!

Veronica W.
I love the Charcoal soap! It has evened out the complexion of my face. Great lather!



Kayla C.